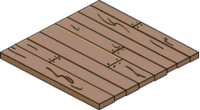 Boardwalk Sections are similar to Road and Pavement tiles, except they can only be placed on water. They were introduced to the game on June 12, 2013 along with the Squidport Event. Their price to build at the Squidport Entrance increases each time one is built, and they take longer to build. They also act as a currency, as they can be produced from the Squidport Entrance.
There was much disappointment about the cost to build the tiles and the time the player has to wait to get them. The maximum wait for a tile is 84 hours (3 days and 12 hours), and if the player rushes none of the pieces with Donuts, it will take them approximately one and a half years to get them all. Not all boardwalk pieces are required, but some players prefer to have all 201, or just a normal size broad walk.
The size of a boardwalk section is 4x4.
Building sections
Edit
Here is a table indicating how much it costs and how long it takes to build which section.
| Section | Time to Make | Cost/How to Get | Cost to Rush |
| --- | --- | --- | --- |
| 1-4 | None | Squidport Entrance | None |
| 5 | 60 minutes | 250 | 2 |
| 6 | 2 hours | 450 | 2 |
| 7 | 4 hours | 850 | 2 |
| 8 | 8 hours | 1700 | 4 |
| 9-20 (12) | 12 hours (6 days total) | 2500 (30000 total) | 6 (72 total) |
| 21-32 (12) | 16 hours (8 days total) | 3350 (40200 total) | 8 (96 total) |
| 33-47 (15) | 24 hours (15 days total) | 5000 (75000 total) | 12 (180 total) |
| 48-62 (15) | 2 days (30 days total) | 10000 (150000 total) | 24 (360 total) |
| 63-90 (28) | 2 days 12 hours (70 days) | 12500 (350000 total) | 30 (840 total) |
| 91-120 (30) | 3 days (90 days total) | 15000 (450000 total) | 36 (1080 total) |
| 121-201 (81) | 3 days 12 hours (283 days 12 hours total) | 17500 (1417500 total) | 42 (3402 total) |
| Overall (201) | 503 days 3 hours | 2515950 | 6040 |
Key
Permanent · Premium · Limited Time · Premium Limited Time