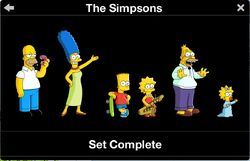 "Simpsons" redirects here. For the television show, see The Simpsons.
Characters in the The Simpsons character collection.
This collection is unique because it's the only one that doesn't have any premium or limited time characters.
When the Winter 2015 Event started, Marge's artwork changed to no longer include Maggie.
On December 23, 2015, Maggie was put in the Simpsons character collection.
---
Pages in category "Simpsons"
Ad blocker interference detected!
Wikia is a free-to-use site that makes money from advertising. We have a modified experience for viewers using ad blockers

Wikia is not accessible if you've made further modifications. Remove the custom ad blocker rule(s) and the page will load as expected.