"The store" redirects here. For the Money store, see Money.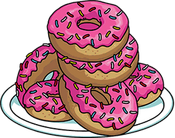 Donuts
(

) are the premium currency for
The Simpsons: Tapped Out
. They can be obtained by leveling up, cleaning
Debris
, and purchasing them from the store. On February 28, 2013, the
Golden Scratch-R
was added to the game, which gave the
Player
a chance to win up to 100 Donuts. It worked in a similar way to the regular
Scratch-R
in that you scratch off three boxes and whatever is revealed indicates the amount won. So far, thirty-eight free Donuts, forty-eight if including the easter egg, have been given out for events. The Player received five on
Valentine's Day
, five on
St. Patrick's Day
, twelve during the
Whacking Day Event
, and six on the
Thanksgiving
. The player also received ten donuts for correctly answering a question during the
Treehouse of Horror XXIV Event
.
See these additional pages for more info: Jebediah Statue, Mystery Box and Homer Buddha. 
The Store
Donuts can be purchased from The Store. You can buy different Donut packages for different prices:
Image
Name
Cost
Amount of Donuts

Cost per Donut (to nearest $/p)

Boatload of 2400 Donuts

$99.99 
£69.99

2400

$0.04 
£0.03

Store Full of 900 Donuts

$49.99 
£34.99

900

$0.06
£0.04

Truckload of 300 Donuts

$19.99 
£13.99

300

$0.07
£0.05

Tray of 132 Donuts

$9.99 
£6.99

132

$0.08
£0.05

Stack of 60 Donuts

$4.99 
£2.99

60

$0.08 
£0.05

Dozen Donuts

$1.99 
£1.49

12

$0.17
£0.12