Foam Fingers

Event
Foam Fingers (

) were a limited time currency during the Act One of the Tap Ball 2015 Event.
How to earn Foam Fingers
Edit
They were earned different ways.
Overtime Bonus
Edit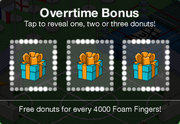 Like most previous major events, players were able to get bonus Donuts once they had unlocked the last prize in the current prize track. Every 4000 Foam Fingers they were presented with 3 boxes containing either one, two or three Donuts. The boxes worked similar to the ones from the Bonus Levels. However instead of the usual 50 000 Cash, players had to spend 150 000 Cash to open another box.
Personal Prizes
Edit
Foam Fingers were used to get Act One's Personal Prizes.
Ad blocker interference detected!
Wikia is a free-to-use site that makes money from advertising. We have a modified experience for viewers using ad blockers

Wikia is not accessible if you've made further modifications. Remove the custom ad blocker rule(s) and the page will load as expected.