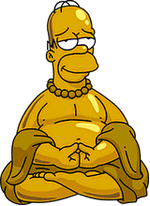 Homer Buddha
is a premium version of the
Mystery Box
. It has been available since the game's initial launch and the player can win up to 200
donuts
if they already have the
Volcano Lair
, which is the highest prize available. A list of all items to be won can be found below.
A Homer Buddha can be aquired in many different ways, as listed below.
 Statistics
Trivia
Note that with the exception of Frink's Lab, in general the higher the price, the slimmer the chances are of winning it through the Homer Buddha.