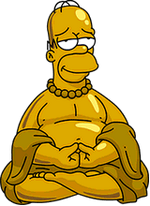 Homer Buddha was a premium version of the Mystery Box. It had been available since the game's initial launch, but got replaced by the Revised Mystery Box on April 1, 2015. The player could have won up to 200 donuts if they already had the Volcano Lair, which was the highest prize available. A list of all winnable items can be found below.
A Homer Buddha could have been acquired in many different ways, as listed below.
 Statistics
Trivia
Note that with the exception of Frink's Lab, in general the higher the price, the slimmer the chances were of winning it through the Homer Buddha.
Its equivalent was the Laffy Meal in Krustyland.
No limited time items were winnable in a Homer Buddha.
Ad blocker interference detected!
Wikia is a free-to-use site that makes money from advertising. We have a modified experience for viewers using ad blockers

Wikia is not accessible if you've made further modifications. Remove the custom ad blocker rule(s) and the page will load as expected.