"We need more donuts! Do it before Homer eats them all!"
This article is a stub. You can help The Simpsons: Tapped Out Wiki by expanding it.
The Inventory is storage for the items in your Springfield. It is accessed by, firstly, clicking on the hammer/saw icon on the bottom righthand side of the screen, and then on the open cardboard box on the bottom lefthand side of the screen. The list will pull up everything in inventory. A click on "Use" under any item will place it back in Springfield.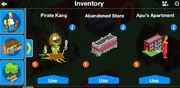 Here is a list of items you can't store in the Inventory:
Ad blocker interference detected!
Wikia is a free-to-use site that makes money from advertising. We have a modified experience for viewers using ad blockers

Wikia is not accessible if you've made further modifications. Remove the custom ad blocker rule(s) and the page will load as expected.