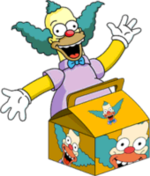 A Laffy Meal costs 25 donuts to purchase and gives the player either a premium object or Krustyland Tickets. It was added to the game when the Krustyland Expansion was introduced, as this special type of Mystery Box is only available for purchase in Krustyland. The Laffy Meal works a lot like a Homer Buddha or Mystery Box, except that it gives items for placement in Krustyland.
Items from a Laffy Meal
Edit
This section is out of date. Please update this article to reflect changes from recent events or newly available information.

Reason: Prizes are no longer correct
Ad blocker interference detected!
Wikia is a free-to-use site that makes money from advertising. We have a modified experience for viewers using ad blockers

Wikia is not accessible if you've made further modifications. Remove the custom ad blocker rule(s) and the page will load as expected.