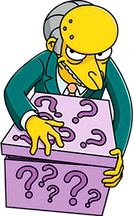 The Mystery Box was an object available which gave the player a random item. The Mystery Box had a cost of 6 donuts and the player could win a max of 30. The Mystery Box got replaced by the Revised Mystery Box on April 1, 2015, which offered higher chances at attaining higher-priced premium items. It was released with the game's initial launch and could be obtained in a number of ways:
If the player played the game for 5 days in a row when there was no theme in the game, they won a Mystery Box. Most players claim that they have won either Dumpsters, Flower Planters or Newspaper Dispensers.
A list of items that could have been won in the Mystery Box can be found below.
Items from a Mystery Box
Gallery