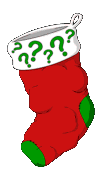 Mystery Stockings contain Donuts or a Reindeer and cost 50 Santa Coins. There was an update on January 2, 2013 installing the Mystery Stockings and the dialogue following into the game, but they didn't appear until January 3, 2013. The stockings were introduced to allow the players to convert their excess Santa Coins to permanent items, which was opposed to the experience after the Halloween content update, when the surplus of Treats just vanished.
| Character | Dialogue |
| --- | --- |
| | "I can't wait till the holidays are over and I can eat all our leftover Santa coins...just like I did with the Halloween candy." |
| | "But not all those coins are made of chocolate. Some of them are made of coin." |
| | "Doesn't matter. I'm still going to eat them." |
| | "How about if instead we use them to buy Mystery Stockings, which contain all sorts of goodies." |
| | "And then I can eat those? Lisa, you're a genius!" |
| | | |
| --- | --- | --- |
| " | Use surplus Santa Coins to buy Mystery Stockings before the Holiday Event ends on January 10th. | " |
|   | — In Game Message | |
Ad blocker interference detected!
Wikia is a free-to-use site that makes money from advertising. We have a modified experience for viewers using ad blockers

Wikia is not accessible if you've made further modifications. Remove the custom ad blocker rule(s) and the page will load as expected.