"We need more donuts! Do it before Homer eats them all!"
This article is a stub. You can help The Simpsons: Tapped Out Wiki by expanding it.
Springfield Animal Shelter

Content Updates

Level Required

Cost

60

Income

Collection Time

4 hours

Size

7x10

Building Time

6 seconds

Premium Building?

Limited Time?

Quest

Action

Taking Puppies Out Behind The Barn

Conform-O-Meter Impact

Obedience: +10
The Springfield Animal Shelter is a limited-time premium building that was released on December 8, 2015, as part of Act 1 of the Winter 2015 Event.
It was offered with a rebate of 20 Donuts on November 25, 2016, during Day 1 of the Black Friday 2016 Promotion.
The Springfield Animal Shelter takes in sick and abandoned animals. The woman who works there has a grumpy disposition, and likes to put the animals to sleep.
Jobs Involved
Edit
Only one can be obtained.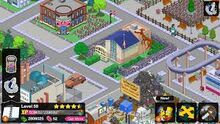 Ad blocker interference detected!
Wikia is a free-to-use site that makes money from advertising. We have a modified experience for viewers using ad blockers

Wikia is not accessible if you've made further modifications. Remove the custom ad blocker rule(s) and the page will load as expected.