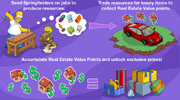 The Springfield Heights Expansion is the third expansion for The Simpsons: Tapped Out. It was released on July 22, 2015, one day after the Tap Ball Event "officially" ended and includes more than 10 new buildings, 20 new decorations, 50 new plots of land and as many boardwalk sections. It comes with a New XP Bonus Feature (details below). Cookie Kwan is the main character of the quest Springfield Heights related to the expansion, as were the Sea Captain and Krusty for the Squidport Expansion and the Krustyland Expansion, respectively, even though her role is limited.
It is accessed via the Springfield Heights Tunnel through the Springfield Mountains, the opening of which has a sign reading "Springfield Heights" on its left (the player's right.) Before the area is unlocked, the tunnel is blocked with rubble and a warning barrier, and the sign is overgrown with vegetation.
Players must be at level 30 to begin the expansion.
On December 2, 2015, Springfield Heights Expansion (chapter two) was released, providing new content, a new currency, a new character and more land.
Springfield Heights is a wealthy district in Springfield. It is home to one of Springfield's secondary schools, Burns Manor, a shopping promenade, West Oak Street and the Springfield Heights Institute of Technology.
New Bonus XP Feature
Edit
The new Upgradable Buildings give the Player a bonus percentage on their XP. However it doesn't apply to Cash. It is neither indicated in the Conform-O-Meter nor anywhere else in the game.
The following list gives an overview about the bonus XP percentage increase of each building.
In total players can obtain a 153% increase to their XP if they choose to place all 53 upgradable buildings.
New Content
Edit
Permanent
Edit
Limited Time
Edit
Returning Content
Edit
Limited Time
Edit
| Name | Cost | Available |
| --- | --- | --- |
| Money Pool | 90 | September 15th - September 22nd |
| Tennis Court | 10 | September 15th - September 30th |
Personal Prizes
Edit
Similar to the personal prizes from any of the Major Events, the player is awarded special prizes for reaching certain amounts of Real Estate Value Points. The personal prizes' progress can be seen by tapping on Red Blazer Realty.
Building Upgrades
Edit
The expansion released a total of five buildings that can be upgraded. Each building had five upgrade levels and can only purchased ten times. The following table gives an overview about the cost of each upgrade level. More specific information can be found on the buildings' pages.
Building
Build
Upgrade to level
1
2
3
4
5
Total
Business
Center
Cost
20
25 + 20
50 + 25
50 + 25
125 + 50
Reward
500K
1.25M
2.75M
7.75M
17.75M
 30.0M
Classic
Mansion
Cost
10
25 + 15
50 + 25
75 + 50
75 + 75
 160 +  165 +  75
Reward
300K
750K
1.64M
4.63M
10.6M

 17.92M

Deluxe
Condo
Cost
15
10 + 1
40 + 25
75 + 25
60 + 25
 65 +  101 +  85 +  25
Reward
200K
500K
1.1M
3.1M
7.1M
 12.0M
Modern
Mansion
Cost
25
50 + 20
25 + 30
30 + 15
30 + 20
 100 +  20 +  90 +  35
Reward
600K
1.5M
3.29M
9.26M
21.19M
 35.84M
Valet
Parking
Cost
10
20 + 20
30 + 30
30 + 80
40 + 80
 50 +  90 +  160 +  40
Reward
400K
1.0M
2.2M
6.2M
14.2M
 24.0M