The Treehouse of Horror XXIII Event was a Halloween-themed event released on October 12, 2012. The event contained several new Iimited time Treehouse of Horror characters, decorations, tasks, and buildings. Along with the update came several new standard buildings, decorations, and characters such as Edna Krabappel and Otto Mann. It ended as of November 8, 2012.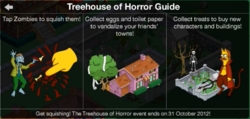 The Treehouse of Horror XXIII Event also included a social element - Players could visit their friend's Springfields and vandalize buildings with Toilet Paper and Eggs. When the Player vandalized homes, they would receive one Treat; if a Player cleaned the Toilet Paper or Eggs from a building they could collect a Treat as well. It was the first Treehouse of Horror event.
New Content
Edit
Below is a Iist of all the new content included in the original Treehouse of Horror XXIII Event on October 12, 2012. During the Treehouse of Horror XXIV Event, several items including the Mausoleum and Bad Dream House were made available again. PIease note that between these events, all of the items listed were longer available.
Buildings
Edit
Characters
Edit
Decorations
Edit