"We need more donuts! Do it before Homer eats them all!"
This article is a stub. You can help The Simpsons: Tapped Out Wiki by expanding it.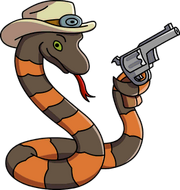 The Whacking Day 2016 Event is the 5th minor event of 2016 and the 21st minor event overall. It was released on May 9, 2016 and ended on May 12, 2016. It mostly brought back old content from the Whacking Day 2013 Event.
New Content
Edit
Returning Content
Edit
Ad blocker interference detected!
Wikia is a free-to-use site that makes money from advertising. We have a modified experience for viewers using ad blockers

Wikia is not accessible if you've made further modifications. Remove the custom ad blocker rule(s) and the page will load as expected.