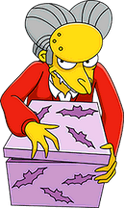 The Wicked Treat Box was an object available to purchase during the Treehouse of Horror XXIII Event which cost 2 donuts to purchase. Inside, the player could win Toilet Paper, Eggs, or Treats. The Wicked Treat Box was the first ever alteration of the Mystery Box. When the player played for 5 days in a row during the event, they would win a Wicked Treat Box instead of a regular mystery box. This also meant that for the event it effectively replaced the Mystery Box, as the Wicked Treat Box also replaced it in the shop menu.
Ad blocker interference detected!
Wikia is a free-to-use site that makes money from advertising. We have a modified experience for viewers using ad blockers

Wikia is not accessible if you've made further modifications. Remove the custom ad blocker rule(s) and the page will load as expected.